Education
It is our firm belief that music should be available for all young people regardless of background. We are very grateful for the support of our sponsors and patrons in enabling us to bring the exciting atmosphere of the Festival to so many every year.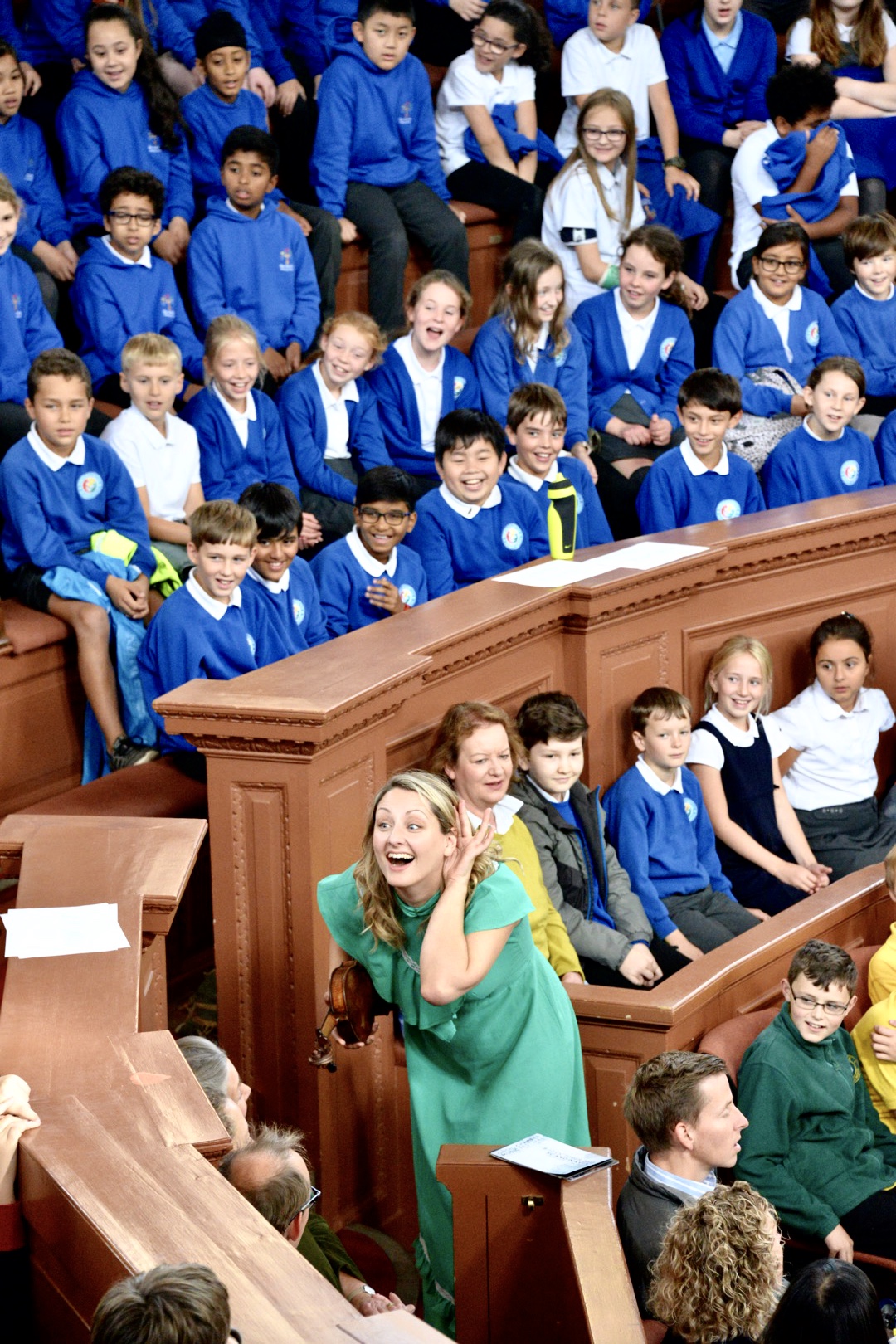 Free tickets for 8-25 year olds
In addition to events, we make a limited number of concert tickets available for 8-25 year olds, thanks to the support of the CAVATINA chamber music trust. Do get in touch early to avoid disappointment! Details of our 2023 ticket scheme will be released on the Tickets page.
We are currently fundraising to present our ambitious education plans from 2023 onwards.
Past Education Events
2022:
Since the Festival took place during the run-up to Christmas, we were unable to hold any school-based events, but over 32 young people (under 25's) enjoyed free tickets at the Festival concerts.
2021:
Our judges Priya Mitchell, Jay Arden and Jonny Greenwood were pleased to announce that the winner of last year's competition was Claudia Woo of Wycombe Abbey School. The Runner up was Matthew Oxtoby.
Congratulations, Claudia, and well done Matthew!
Well done to all those who made the shortlist – it was a very difficult decision with such fantastic compositions to choose from – and indeed to all those who entered the competition. It was a great pleasure to listen to all of your compositions and it is a great shame that we cannot have several winners!
In the meantime, recordings of last year's 2020 winners are now available on d'Overbroeck's school website.
Please click here: Oxford Chamber Music Composition Competition 2021 – shortlist and winner announced! – d'Overbroeck's (doverbroecks.com)
Schools' Concert
The 2021 schools' concert saw 90 students enjoying an excitingly performed programme of chamber music, with Festival musicians, Priya Mitchell, Annette Walther, Dirk Mommertz and Brian O'Kane. The pieces were introduced and brought to life by d'Overbroack's Director of Music, Richard Poyser, who led everyone in various interactive musical activities.
Thirty Year 3 students came all the way from Witney Community Primary School; St Andrew's Headington sent a Year 5 class; and our partner school, d'Overbroeck's brought along thirty Year 7 students and some sixth form Music scholars who were very helpful with the younger pupils.
One of the Year 3 pupils wrote afterwards: 'I loved the music, it made me thoughtful'.
And the Year 7's comments included :
'They did a song about a tango with the cello and the piano. Some bits were quiet and some bits were really loud. I liked it!'
'There was one where two violins were playing. They were playing together but at different times. They were a duo.'
'They were competing with each other. They were trying to see who was the loudest.'
'When the person on the piano and the violin played, the violinist made very big movements with her body and facial expressions. It showed how she understood the music.'
'I thought the first one was like Alice in Wonderland -pondering, magic and looking at the daisies.'
'There was the Beethoven piece about the Spring. It jumped like baby rabbits jumping out of a hole'
'There was the one that went from minor to major because his daughter was ill and he wanted to make her better. And it actually happened!'
2020: Young Composer Competition
All of the compositions that we heard had a huge amount to commend them, and we would like to thank all those who entered the competition for sharing them with us and for giving us many hours of happy listening!
Congratulations go to Thomas Simpson (Magdalen College School) and to Tingshuo Yang (Eton College) on gaining first prize, and to our runners-up, Thomas Jansson (d'Overbroeck's), Christopher Brain (Winchester College) and Daniel Sandell (Harrow School). In the end, it was too difficult to choose between Thomas Simpson's Do Not Go Gently and Tingshuo Yang's Violin Sonata.
Tingshuo Yang's sonata showed impressive technical accomplishment with a remarkable consistency of style throughout. It was powerful, dramatic and complex, and was an imaginative response to the brief, incorporating and communicating themes of brotherhood, isolation and nature.
Thomas Simpson's composition was emotionally direct and convincing and communicated the composer's intentions with great clarity- an emotional lightning rod for the themes set out in the brief.
2019: Schools Choral Project
The OCMF has developed an ambitious music education programme to connect schools and education institutions around the county, founded on the Kodaly method. We piloted a week-long pilot project in 2019 to link a leading Kodaly practitioner, four local primary schools, and Oxford's two universities. This involved a week of coaching for each school, followed by a large-scale concert for all of the participating children, concluding with a debrief and seminar for prospective music education practitioners.
The Kodaly Method is an approach to musical learning, developed by Hungarian composer and educator Zoltán Kodály, which involves the children learning through singing and playing musical games. By singing simple songs, children gradually learn the elements of music, including pulse, rhythm, pitch, dynamics and tempo. Games reinforce the learning and make the lessons fun. Key skills being built include listening and singing in tune.
The project was led by Lucinda Geoghegan, a theory and musicianship lecturer at the Royal Conservatoire of Scotland, and is Creative Learning Director for the National Youth Choir of Scotland. Her work involves Staff Development training across Britain presenting workshops on Kodály musicianship and methodology.
The project culminated in a concert given by the participating pupils at the Oxford Centre for Music. All four groups joined together to perform music learned over the course of the project, as well as each school group having an opportunity to perform individually.
Partner School

Feedback:
"Well, the festival finally arrived. And it was good. Really, really good.
On Wednesday afternoon we took all of Year 7, plus students from d'Overbroeck's International School, to the Schools' Concert in the dimly lit but atmospheric Town Hall. On the menu was modern music from Sally Beamish (still alive, still composing), and less modern music from Ralph Vaughan Williams, Tchaikovsky and, Mark Olejnik's favourite [Mark is Headmaster of d'Overbroeck's 7-11], Vivaldi (none of whom are still alive, sadly not one of them still composing). We heard Sheku Kanneh-Mason, the amazing young cellist who played at the Royal Wedding (Harry and Meghan, not Charles and Diana!), and presenting the show was Alexander Armstrong, Pointless presenter and TV and Radio superstar, who added a touch of celeb sparkle and brilliance to it all. From a teacher's point of view it was perfect: at an hour long, and with plenty of variety and fun it was non-stop entertainment, and to see 35 Year 7 faces light up at the sound of an orchestra was a delight- one of those moments that make teaching such a joy. As ever it was a delight to be with our well-mannered and engaged d'Overbroeck's pupils. We were very proud to be with them.
In the evening we did it all again, this time with the GCSE and A level students. The programme was a slightly extended version of the afternoon's offering, and the students were particularly taken with the Vaughan Williams and Vivaldi/Beamish (weird but brilliant), and they were all dazzled by Sheku's brilliant, emotional and intense playing."
– Richard Poyser, d'Overbroeck's Director of Music
Read more about the Festival experience from Richard Poyser, Director of Music and students at d'Overbroeck's.

 We are most grateful to the CAVATINA Chamber Music Trust for their support in enabling OCMF to offer FREE tickets to young people aged 8 to 25 (inclusive) www.cavatina.net, and to d'Overbroeck's School, Oxford for their previous support, publicity and sponsorship of OCMF.